Simplify your life with our premium-quality vegetable slicer which is designed to do all the hard work for you in seconds and with less effort on your side, saving you a lot of time and energy.
Benefits of the Veggie Slicer

✅Practical and easy to use:
 It will cut all kinds of vegetables, grate cheese, slice potato and cut your fruits into beautiful even sizes in seconds. What's more, it can even create paste-like vegetables such as mashed potatoes.
✅Saves Time & money:
 Made with 7 stainless steel blades that are sharp enough to slice your fruits or vegetables in seconds, saving you a lot of time. Plus you don't need to buy other tools for similar purposes.
✅Perfect Gift Choice
: If you are looking for a gift for a friend or loved one, then you have just found the perfect gift. If they are professionals or busy parents, then this smart slicer will be a lifesaver for them as it will help them save a lot of time cooking.
✅Easy to Clean & Storage Container
: It is very easy to clean and dry up after use. It has its Storage on the side which is a container in which to keep blades after use, so you never have to lose them or spend time looking for them.
✅Safe for the body
: Made with food-grade stainless steel and BPA- free materials making it eco-friendly and safe for the body.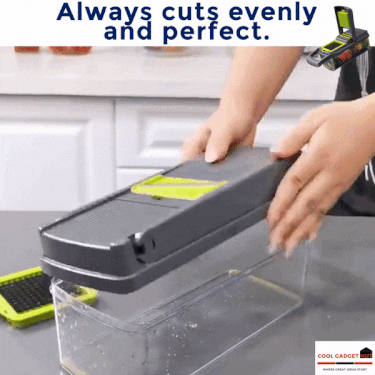 Package includes:

· 14x14mm & 7x7mm Dicer Blade
· Ginger Grater Blade
· 4mm & 3mm Shred Blade
· 2mm Slicer Blade
· Waffle Blade
· Egg Separator
· Drain Basket
· Hand Guard
Worldwide Shipping
We can ship to virtually any address in the world. Note that there are restrictions on some products, and some products cannot be shipped to international destinations.
Shipping to USA, Australia, New Zealand:
Standard Shipping: 15-25 business days. 1PCS US$6.00, 2PCS US$10.00, 3PCS US$14.00, 4PCS US$18.00, OVER 5PCS US$22.00;
Shipping to Canada:
Standard Shipping: 15-25 business days. 1PCS US$8.00, 2PCS US$12.00, 3PCS US$16.00, 4PCS US$20.00, OVER 5PCS US$24.00;
Shipping to Rest of the World:
$5 on Standard Shipping; Shipping time varies from different countries.
50 Days Easy Returns
If you need to return items, please contact customer service at info@jellipops.com. You may return most new, unopened items within 50 days of delivery and get your refund.
Please tell our customer service the issue in detail, including the return reason, along with your order number. For defective, incorrect or not as described item, please send us a clear picture or video of the issue. We will allow a return to our warehouse for a refund or an exchange if our company is responsible for the issue. We'll notify you via email of your refund once we receive and process the returned item.
Refunds
Usually it takes time for us to receive your return(days varies according to your shipping method), and time for us to process after receive your return (3 to 5 business days).
Paypal account refunds: Usually immediately.
Credit card refunds: Between 5-10 business days